This medical imaging initiative is improving access in an era when Magnetic Resonance Imaging (MRI) services have expanded at unprecedented levels.
Over the past five years, the Shared Care Regional Radiology Project working group and other health professionals have collaborated with Lower Mainland Medical Imaging (LMMI). The MRI Central Intake Office for LMMI began as a response to the November 2015 Ministry of Health (MoH) provincial MRI strategy that sought to address the expected 45% increase in MRIs from 2015 to 2019. From the outset, LMMI's goal was to develop a better process for central intake.
Vancouver-based family physician Dr. Sophia Chong remembers the days before the referral form—when Medical Office Assistants would have to reach out to hospitals one-by-one in order to submit referrals, and even then, there was no guarantee of an appointment in less than a year, if at all.
That all changed when she was invited to join in a discussion with radiologists and Shared Care team members. "I spoke up and the heads of radiology were there, and they said, 'that's ridiculous—we need to do something about that.'"
Since then, the centralized form has allowed for family physicians to book at virtually all hospitals in the Lower Mainland—a change that, Dr. Chong says, has resulted in significantly lower wait times, both for patients and her office staff.
"It's literally gone from one to two years for an MRI, to anywhere from less than a month for serious cancers to nine months for non-urgent issues," she explains. "It's easily saved the average patient at least a year, since that initial meeting I had with Shared Care and the Ministry."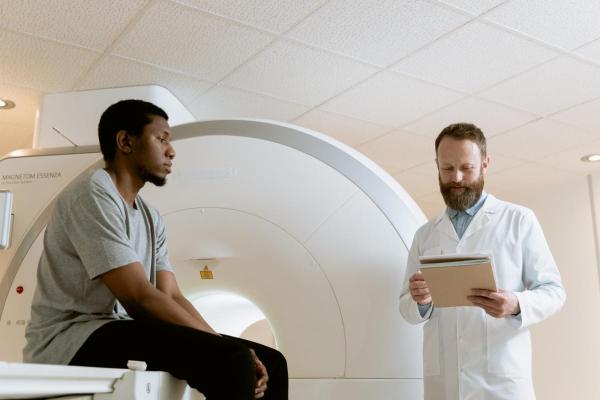 Since the intake form's rollout, the project has seen several additional successes, including an MRI Appropriateness Checklist submission compliance rate greater than 95% and a decrease of 2–3% in referrals for knee, hip, and lumbar spine MRI studies.
Additionally, the LMMI team generated a survey to assess perceived benefits from ordering providers, in which a majority of respondents agreed that the appropriateness checklist has provided valuable education for patients.
And the project didn't stop there. Since 2019, the LMMI team has been working with the provincial eForms team to develop an MRI eForm that can be inputted into the central intake database. This would provide a significant efficiency improvement by automating the transcription of patient information and having mandatory fields that decrease the error rate of incomplete MRI requisitions. LMMI is also working with an artificial intelligence tool that will increase the ability for the referral to be sent to the most appropriate site with the shortest waitlist. The project team gathered input from primary care on the new form, and a group of family physicians participated in the go-live of the MRI eForm. The MRI eForm launched for clinic use in May 2022.
The efficiencies found from implementing this new eForm will facilitate the addition of other services into the central intake approach (like CT scans, for example). The uptake and utilization of the eForm is directly tied to being integrated with EMR vendors' systems The Intrahealth EMR is currently rolling out the MRI eForm across its clinics and will continue to do so over the coming months. By fall 2022, WELL Health/OSCAR EMRs will be online representing a total of 40% of EMR users combined.
To top it off, the project team aims to develop an approach for clearly and consistently identifying incidental findings within radiology reports. In addressing this, radiologists created ten macros for common incidental findings and pilot-tested them at three sites: Lions Gate Hospital, Mount Saint Joseph, and St. Paul's Hospital. The project team is currently recommending implementing this approach at an enterprise level across the Vancouver Coastal Health, Providence Health Care, and Provincial Health Services Authority sites associated with LMMI.
Looking forward, the Regional Radiology project team will seek to finalize a standard operating protocol (SOP) for notifying patients with significant incidental findings through the PHC Clinical Policy office. Its goal is to provide consistent processes for physicians caring for inpatients and/or emergency patients when communicating incidental findings in medical imaging. Once finalized, the SOP will apply at Mount Saint Joseph and St. Paul's Hospital, with the potential to expand its applicability in the future.
The Regional Radiology Project is funded in part by the Shared Care Committee, a partnership of Doctors of BC and the BC government.